December 2020 Update — New Video Course available!
0

comments
791 days since last revision. Details are possibly out of date.
My first video course
I've made my first video course! You can go and watch it now on SkillShare or Udemy, "Animating with the JavaScript Web Animations API".
Interested in taking the course but can't afford (or simply don't want to)? I've got 10 free access codes for the first 10 of you who email me! This means you can watch it gratis and don't even need to sign up to Skillshare.
I really need people to watch it and leave a review for the algorithms to start recommending it to others. 🙏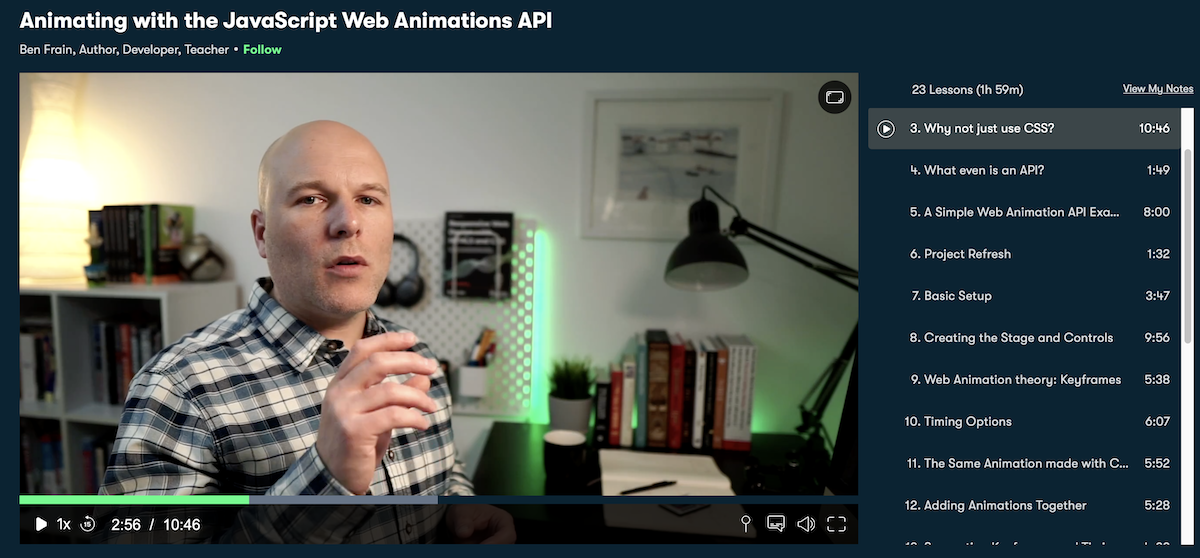 If you are reading this and missed the freebies, you can still get two weeks free on Skillshare by using this link: https://skl.sh/3lJleAh
What took me so long
A video course may seem out of the blue for anyone following along with these irregular updates. Here's what happened:
I happened to catch Junior Doctor and 'YouTuber' Ali Abdaal talking about where he makes his money and that got me thinking — I should try making video courses (plus I'm a Dad and Christmas was on the way!).
I'd been asked to create video content a few times over the years but the organisations wanted very structured content and I wasn't comfortable with that. This way, I get chance to do my own thing a little. I know, I'm about 20 years late but better late than never…
So, from mid-October I decided I was going to try and get a video course made. I had no interest in selling/hosting the content myself as I only have a small number of followers and I wanted to concentrate on making the actual content, rather than get embroiled in setting up any kind of payment processing system.
Why the Web Animations API?
I'd been writing lots of animations of late using the Web Animations API, and it was making a big difference to the quality and robustness of what I was creating. If you're only used to animating on the Web with CSS it may surprise you how capable and well supported the API is. I'd venture if you can animate with CSS, even if you don't use JavaScript much, you'll be fine using this API. Plus, it saves needing an animation library like GreenSock, which, while great, is yet another dependency and non web standard syntax to master.
As I'd only recently learnt to use the Web Animations API myself, I thought it would make for an interesting course.
A recording setup and workflow
Figuring out a decent enough setup to record and edit 1080p video content is worthy of a blog post itself but I've ended up with, what feels to me, a very efficient workflow. I record from a Sony A6000 direct into the Mac via a convertor box and simultaneously screen record via QuickTime. Then I bring both feeds into Final Cut Pro X. From there, I create a 'Multicam' clip of the two using the audio for synchronisation so I can easily cut between the two on the timeline. Now, I know most of you aren't videographers so I'll spare you further details — look out for a post on the subject in it's of interest. Or shoot me a mail/tweet/comment for any particulars.
No more Linux. Or Vim. Or different keyboards (well, not unless I'm reviewing them)
I had a revelation/epiphany of sorts at the end of September. That epiphany was that I needed to stop dicking around.
As a result, I sold the Linux box, and external monitor I had been using and commandeered the 'family' iMac.
Linux was good — no complaints there. It just didn't benefit me to try and intimately know both systems for no good reason.
So heading back to working exclusively on the Mac was part of me cleaning up my 'try something different' addiction.
Another ergonomic keyboard review
Despite promising to not dick around, just before that decision, I had been asked to review another ergonomic keyboard. This one being the Zergotech 'Freedom'. It's a really, really good keyboard. If you feel you may benefit from an ergonomic keyboard, definitely check out the full review.
Books
Since the last update I started but ditched a number of books:
A TED talk at best Easy to know if you'll take anything from this book; suppose a friend asks you if you want go out one evening, but you don't actually want to because you have something else you would rather do. If you tell the friend you'll go, because you don't know how to say no, you'll perhaps take something from this. Everyone else can easily skip it. It's not that it's terrible, it just doesn't warrant 6 hours. The same basic premise is repeated over and over. There were occasions I genuinely wondered if I'd skipped back a chapter. There are some good anecdotes but they mostly come from other sources and the original content would do better as a short lecture rather than 6 hours.
I also found myself listening to 'From Russia with Love'. My eldest (11 years old) wanted to read an Ian Fleming James Bond book but I suspected the content may be too old for him. Suspicions confirmed! Definitely not suitable but a much better read/listen than I thought it would be. Next stop maybe John leCarré — any of you read those? Any good?
I'm currently almost at the end of 'Never Split the Difference' which is a book on negotiating from an former FBI hostage negotiator. I'd say it's interesting enough, with some useful titbits to take from it, but not a 'you must read this'.
Next up is Atomic Habits.
Signing off
That's it for this update, thanks for your support. Hope you all have a safe break and 2021 is a more fun-filled experience for all!