Uses
This page is an overview of the software, hardware and tools I use day to day. I'm always intrigued by the processes and tools that others use, so, I'm writing up my own to encourage others to do the same!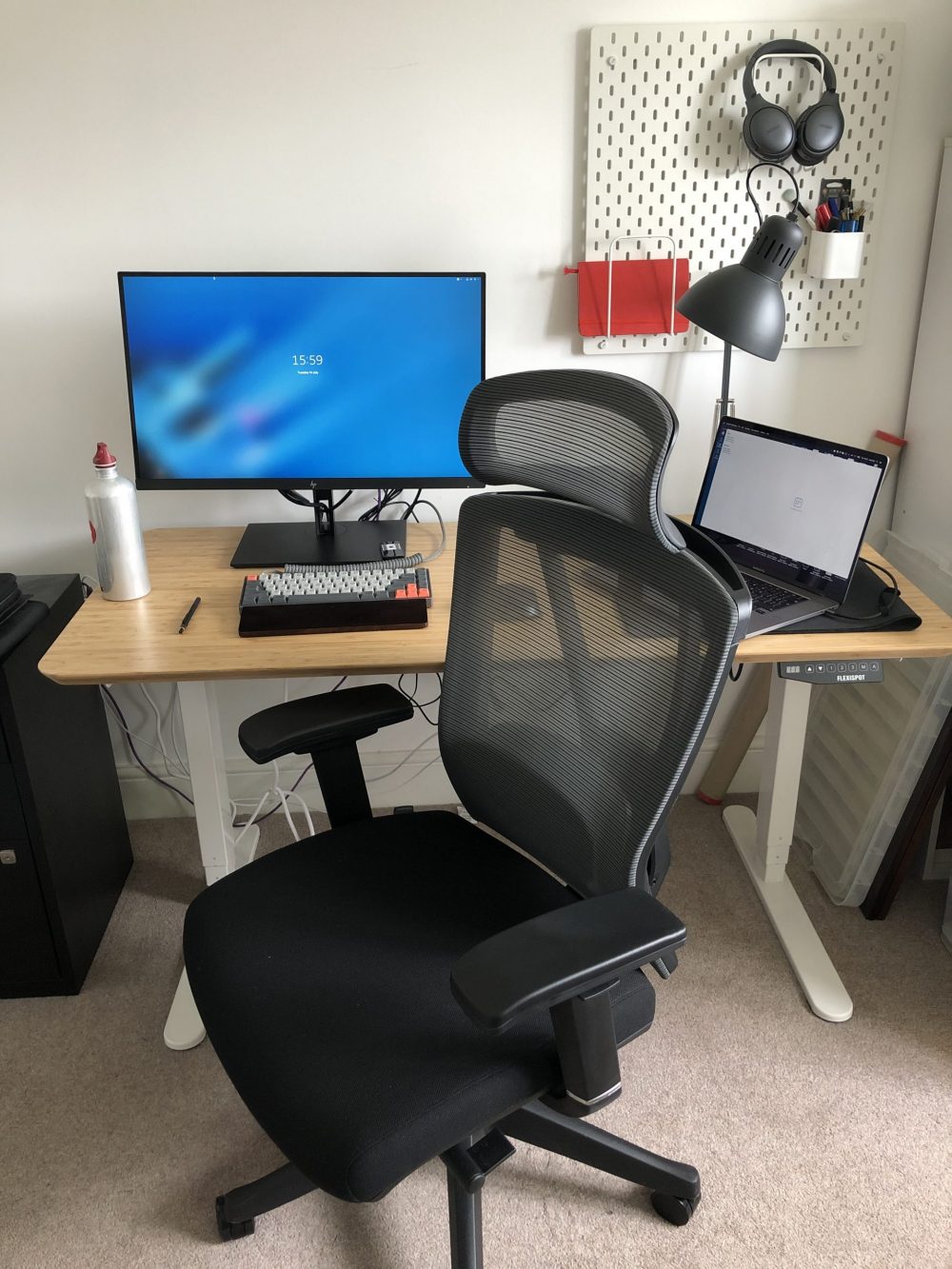 Text editor, fonts, OS and utility software
I change my text editor more often than you likely change your pants. Usually Sublime Text with LSP and NeoVintagous, often NeoVim, occasionally VS Code.
I tend to use the Nord theme.
For editing code I like the JetBrains Mono font but occasionally use Dank Mono.
I've used a Mac exclusively since around 2001. In May 2020 I got my first Linux box running Ubuntu 20.04. That was quickly re-loaded with Fedora. I like Fedora. As I write this in July 2020 I am still getting comfortable with Linux!
Terminal wise, it's iTerm2 for Mac and whatever comes with Linux Fedora as standard (that will change as I get used to Linux!)
For design, in the day job I use Sketch but it's gone horribly bloated and slow. For personal projects I use Figma
On a Mac I do almost everything via Alfred; I swear by the clipboard memory feature. For Linux I just use the Super key as the app launcher. It works great. Alongside that I added gpaste for clipboard history.
Browser
I tend to code with my editor on the left, browser on the right. I want to use Safari all the time but the dev tools are awful. Plus it has so many shortcomings regarding web platform features.
Chrome is greedy with resources and I worry about Google's appetite for tracking everything we all do.
That leaves Firefox which is great and my default on Linux, but no platform has it as the default rendering engine so you are always having to check other browsers anyway. So, I suppose Chrome and Safari. Bah!
Social Media
I don't have Facebook. I do have Twitter but would be fine if it disappeared tomorrow. I used to use Tweetbot until Twitter hobbled everything. Now I just use it via the website.
RSS and WordPress
I love RSS. I do that via Feedly and Reeder (Mac/iPhone). I like blogs. I especially like comments on blogs and die a little inside every time someone I respect ditches WordPress to install whatever this weeks hot static site generator is that doesn't handle comments. I'm hoping Ghost does native comments at some point because I'm hopeless with PHP but for now I'm stuck on WordPress!
Desk and chair
The best investment I have made, kit wise, is the electronically adjustable standing desk/legs. I bought Flexispot height adjustable legs in an Amazon flash sale for about 260 GBP. Then added an inexpensive Bamboo top from IKEA for 50 GBP. I knew I was too lazy to work a manual adjustable desk and this has been great. I treated myself when I started writing the latest edition of one of my books in 2019 and it has more than paid for itself during #WFH.
I use the Autonomous ErgoChair 2. It's excellent and fairly inexpensive considering the specifications.
Computing Hardware
Since the Corona-forced working from home I have a MacBook Pro 16 for the day job.
That's attached via USB-C/Thunderbolt to a Sabrent USB-C KVM, which theoretically should let me switch a AV Access HDMI KVM switch complete with IR remote that lets me switch between the MacBook and:
An Intel NUC i3 with 32GB Memory and a 240GB NVMe running Linux Fedora.
Both of these connect via the KVM to a HP Z27 4K monitor. For the money, I think the HP monitor is pretty hard to beat as it can power a thunderbolt device directly. Just plug in a Thunderbolt/USB-C cable from the monitor to your laptop and you're away. It will even let you spin the monitor to portrait mode. Which is cool. I suppose?
If that wasn't good enough, HP sell the inexpensive B300 bracket so you can mount a thin client on the back; which is what I have done with the NUC to free up desk space. Sounds great, right?
I always used to use a 2017 27″ iMac. This used to be my 'one and only'. I've given it to the other members of my family to help get schoolwork and the like done. I love that iMac. I don't think there is a better value proposition than the 27″ iMac. 5K screen, great performance, superb OS, speakers, webcam etc all built in. Beautiful.
Peripherals
A mechanical keyboard. I have a few of these; WASD Code, HHKB but more recently something of my own making!
Logitech MX Master mouse. I use the mouse less and less but this is as close to perfect as I think a mouse gets (I'm using the 2s version currently.
Sony XM3 headphones — the noise cancelling is worth every penny. The Sony XM3s developed a common manufacturing problem. I wouldn't recommend them to anyone anymore. Plus they don't allow easy switching between input sources. More about that in the linked review. For now I have picked up an inexpensive pair from Amazon made by 'Botune' that also have noise cancelling but only about 15% of the XM3 price.
Occasionally for Skype and the like I'll use a Plantronics C520M headset
A Brother HL3170 CDW laser printer. What a revelation owning a laser printer has been. I don't print a lot, but fannying around with an inkjet is no longer something I concern myself with as ink spills, paper jams and dry ink are not a concern with a laser printer.