Review: Autonomous ErgoChair 2 office chair
1

comment
980 days since last revision. Details are possibly out of date.
Hey! I have a special 8% discount on Autonomous products, including this chair and the
SmartDesk 2
. Enter code '
BENFRAIN8
' at checkout for 8% off.
TL;DR Summary
The Autonomous ErgoChair 2 is a great value proposition. It's described as an 'ergonomic office chair' and I can't speak to that academically but thanks to almost limitless adjustment permutations, I can say with confidence, you're virtually guaranteed to find the ErgoChair 2 one of, if not the, most comfortable office chair you have used.
It lacks a premium price tag, so you're not going to find premium materials everywhere. Compared to more expensive offerings, you're missing out on metals for the legs, for example, and perhaps more recycle friendly materials for the packaging.
But, in terms of bang for your buck; this will be money well spent. For the last two weeks I've been using the ErgoChair 2, instead of a HAG Futu 1200, a chair that retails in excess of £650; easily more than twice the price of the ErgoChair 2. However, I haven't just been opting for the ErgoChair 2 to try it out, I've chosen to sit in it because it's far and away a more comfortable chair.
I should say at this point, if you're reading this review and know nothing of me, I am a web developer and author. Subsequently I'm at a computer all day. My hope was the ErgoChair 2 would provide something better for me than a run-of-the-mill office chair. It absolutely provides that.
So, if you are in a rush, this is ultimately what you need to know:
Yes the ErgoChair 2 from Autonomous is worth the £269/$349. It's very comfy, thanks to being almost infinitely adjustable, and is stylish enough that it could either smarten up your home office or look entirely at home in a modern office space.
That's the short version. However, if you want more information and background, read on. Also, Autonomous have provided me with a 10% discount code that will be valid for a month from this review. Details at the end!
Why the ErgoChair 2?
In late summer 2019 I started writing a book in the evenings. The office I work in has a standard sitting desk and I didn't want to be sitting all day in the day job, coming home and sitting all evening while writing too. Subsequently I bought a standing desk and all was good.
Skip forward a few months and the world entered the Covid-19 lockdown. Like the rest of us lucky enough to carry on working, I was spending all my time in my home office. This meant shifting between standing and getting by with a sub £50 chair from Amazon.
The cheap chair was horrid, but fine for the odd 10-20 minute session it had been used for previously.
During lockdown, I tended to do a couple of hours standing, then an hour or so sitting and alternate between the two.
The sitting part was becoming burdensome. I'd retrieved a decent chair from the office, a HAG Futu 1200, but despite its premium credentials, I'd never really found it that comfortable.
I looked at 2nd hand Herman Miller chairs and the like but they were still very expensive. I wondered what less expensive alternatives were available.
That search led to the ErgoChair 2 by Autonomous.
Who is this suitable for?
I'd say, if you have a home office, or small office, and need an extremely comfortable, aesthetically pleasing office chair, the ErgoChair 2 should absolutely be on your shortlist.
Manufacturer support is great; there are heaps of videos on the Autonomous site and FAQs covering everything I needed an answer to, they offer free shipping and lots of nice colour ways to choose from. In addition, Autonomous look like they are in to this for the long hall. If you are in the US you can even get an entire office! Check out the Zen Work Pod!
Delivery & unpacking
This thing comes in a big box. It weighs in at 30Kg/67lbs so it's not the kind of parcel you can tuck under your arm and trot upstairs with. You'll likely need someone to carry it with you, although I confess I resorted to 'cart-wheeling' end over end up the stairs with no issues. Think of it as mini #WFH workout!
Don't expect fancy packaging, as it's merely functional; double cardboard-boxed and packaged suitably to keep it in tact during transit. However, quite a bit of bubble-wrap and plastic is used. I'd like to see Autonomous use more simple, recycle friendly materials in future, if at all possible.
Everything you need to assemble the chair is included along with simple clear instructions. If you have ever assembled a basic piece of Ikea furniture, this is no harder. Probably easier!
From opening the box, assembling and sitting on the chair took under 30 minutes. If you want further guidance their is an assembly video you can follow on the Autonomous website.
What I really like
The single biggest thing you lack in a 'cheap' office chair is adjustment. Stumping up a little more to get the ErgoChair 2 means you get every possible adjustment you can imagine. As such I have found this chair to be the comfiest office chair I have used.
The main thing for me, being relatively short, is the seat tilt. For you it might be the lumbar support, or the adjustable armrests. Like I said, this thing has LOTS of adjustment possible. To get a good idea of the kind of adjustment possible, I'd recommend taking a look at the features guide on the Autonomous site.
It has a smoothness to the mechanisms. All the leaning and spinning is just lovely and smooth. Whether this will be the case in 6 months or 6 years remains to be seen but in day to day use this feels solid.
I really like the mesh back. On a hot day, you can stick a fan behind you and get a lovely breeze on your back. Even on normal days it just makes sitting for any length of time more comfortable.
What I don't like
The arm rests can move around horizontally a bit as you rest on them. It's great to have the option to tweak the horizontal position but as there is no way to lock them, it only really makes sense to enjoy the widest setting as that's the only position you can guarantee they will stay in. It's not a deal breaker, and the vertical positioning is rock solid. But, something to be aware of.
There are occasionally aesthetic blemishes. For example, there a little chrome divider on the arms. There is a little dink on both of this chair. Also one of the arm rest pads has a dent on the side, presumably where it has been pushed against another part in transit and storage. They are minor issues, and I know I won't even think about them in a week or so, but I highlight them here purely to set your expectation. If you are hoping for absolute manufacturing perfection, you'll need to spend a significant amount more to attain it.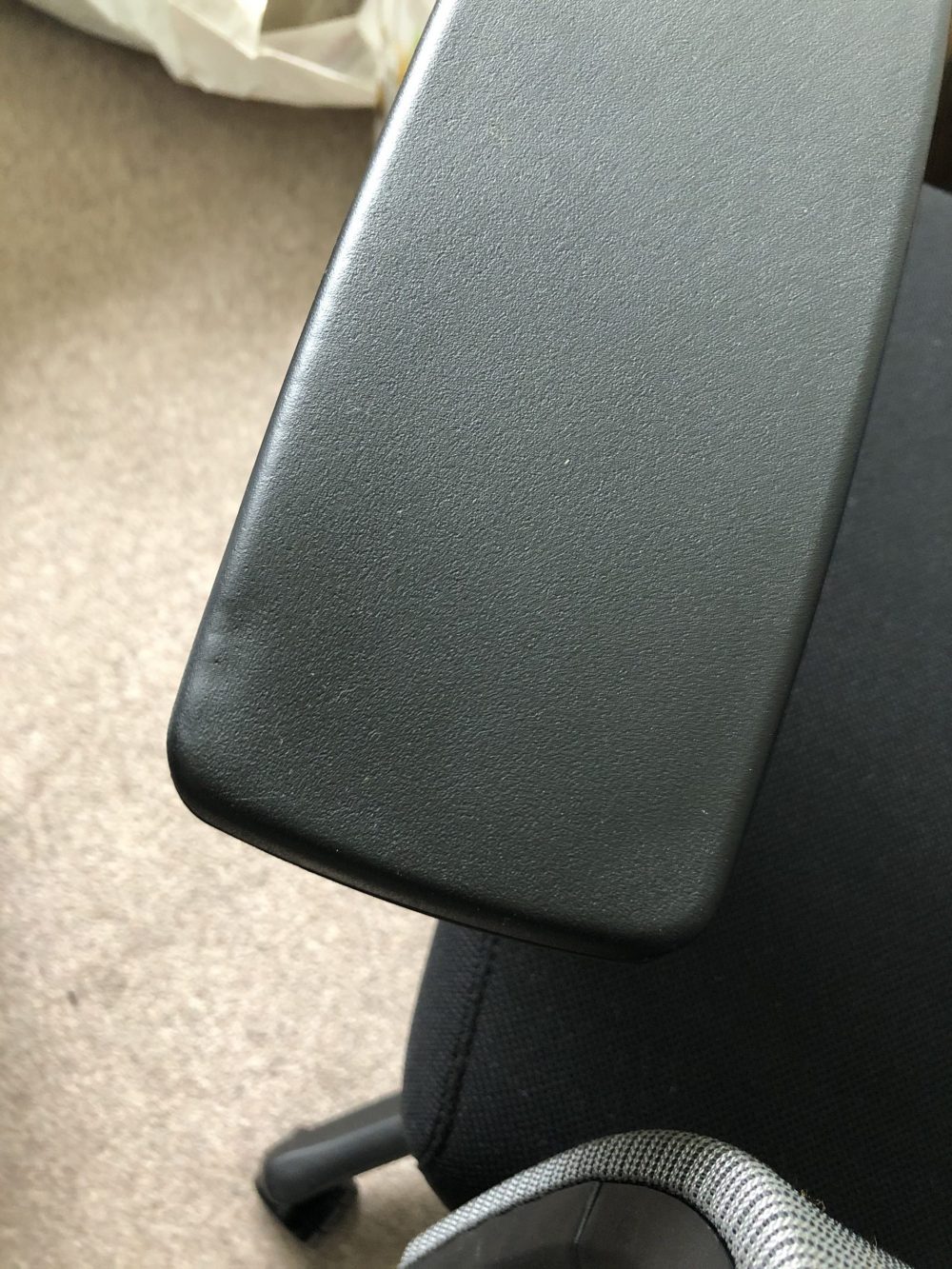 I also mentioned the packaging before. I think Autonomous could do a better job here. Less plastic, foam and bubble wrap would be great in future.
Quick Q&A
There is a complete Q&A on the Autonomous website, but here are the first things I was asked about it:
Q. Can the armrests come off?
A. Yes.
Q. Can you lock the armrest position?
A. Vertically, yes, but the tops of the armrests, while very adjustable, don't lock when set (honestly, not a big deal).
Q. What's it made from?
A. Mostly plastic. Seat back is nylon so nicely breathable.
Q. Is it ready assembled?
A. No, you need to build it. Takes about 30 minutes, and not difficult. The only tool you will need to assemble it is included.
Q. How long is the warranty?
A. 2 year warranty for manufacturing defects.
Q. What if I'm not happy?
A. Like a lot of modern mattress companies, you can try it for 30 days and they will collect it from you if you are not happy with it.
Q. What weight will it support?
A. 25 stones/350 lbs/158Kg.
Summary
The Autonomous ErgoChair 2 is a well priced, fully adjustable office chair. At the time of writing I've been using it for roughly two weeks. I've found it extremely comfortable and have zero complaints where comfort is concerned. Indeed, it's the most comfortable office chair I have used.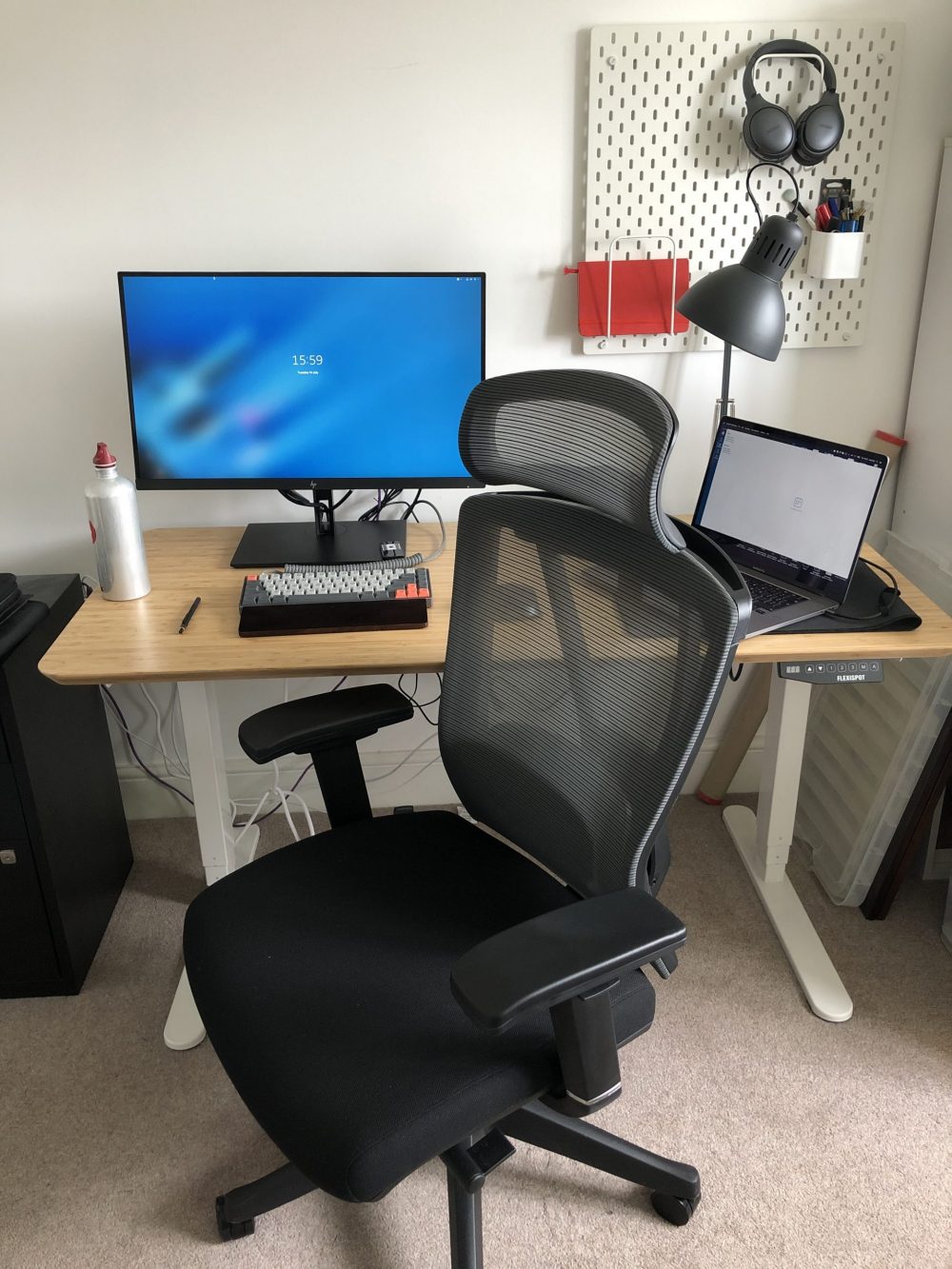 If you need a modestly priced, attractive, and crucially, comfortable office chair, I would encourage you to check it out.
Off the back of this review, Autonomous have provided a 10% discount code. It's only valid until August 21st 2020 so if you're in a position to buy — get on it!
Enter code 'BENFRAIN710' for 10% discount on all Autonomous products.