September 2020 update
0

comments
874 days since last revision. Details are possibly out of date.
September 2020
This is a copy of a newsletter I try to get out each month. It goes direct to newsletter subscribers. You can enjoy it straight to your mailbox by signing up here.
Progress on YANA, my WIP notes app
The truth is, work on my notes application, YANA, has largely ground to a halt. The day job required me back in the office and its taken me a while to get back into the grove. In the last few days I'm thinking about it more and I may go the route of using something like AWS Amplify to do some of the heavy lifting, authorisation, and database wise. Hopefully I'll be further along next time!
Sub-domaining ECSS.io
It's been 6 years since I was trying to champion ECSS as a way to solve your style sheet woes on larger projects.
Although it's a practice and methodology I use to this day, and solves every one of my CSS problems, I'm done promoting it. I can live without the $50 a year domain name renewal so intend to move https://ecss.io to https://ecss.benfrain.com in the coming weeks and stick a 301 redirect on ecss.io. The domain expires February 2021 so I'm hoping this gives anyone who has an interest the requisite time to update any links.
I don't like to redirect URLs but having projects as sub-domains rather than TLDs is something I wish I'd done more; I have four other book-related TLDs that I wish were simple sub-domains. You live and learn!
ErgoDox EZ and ErgoChair 2 reviews
It's not been intentional, but the majority of writing on my site since that last update has been product reviews.
Most recently, the ErgoDox EZ mechanical ortho-linear keyboard. I'm writing this on the ErgoDox with a new custom layout and I'm really enjoying it. I can't say I'm at a terrific words per minute rate but I'm improving. Anyway, if you have ever wondered about ergonomic keyboards, especially the mechanical type, read the ErgoDox EZ review here.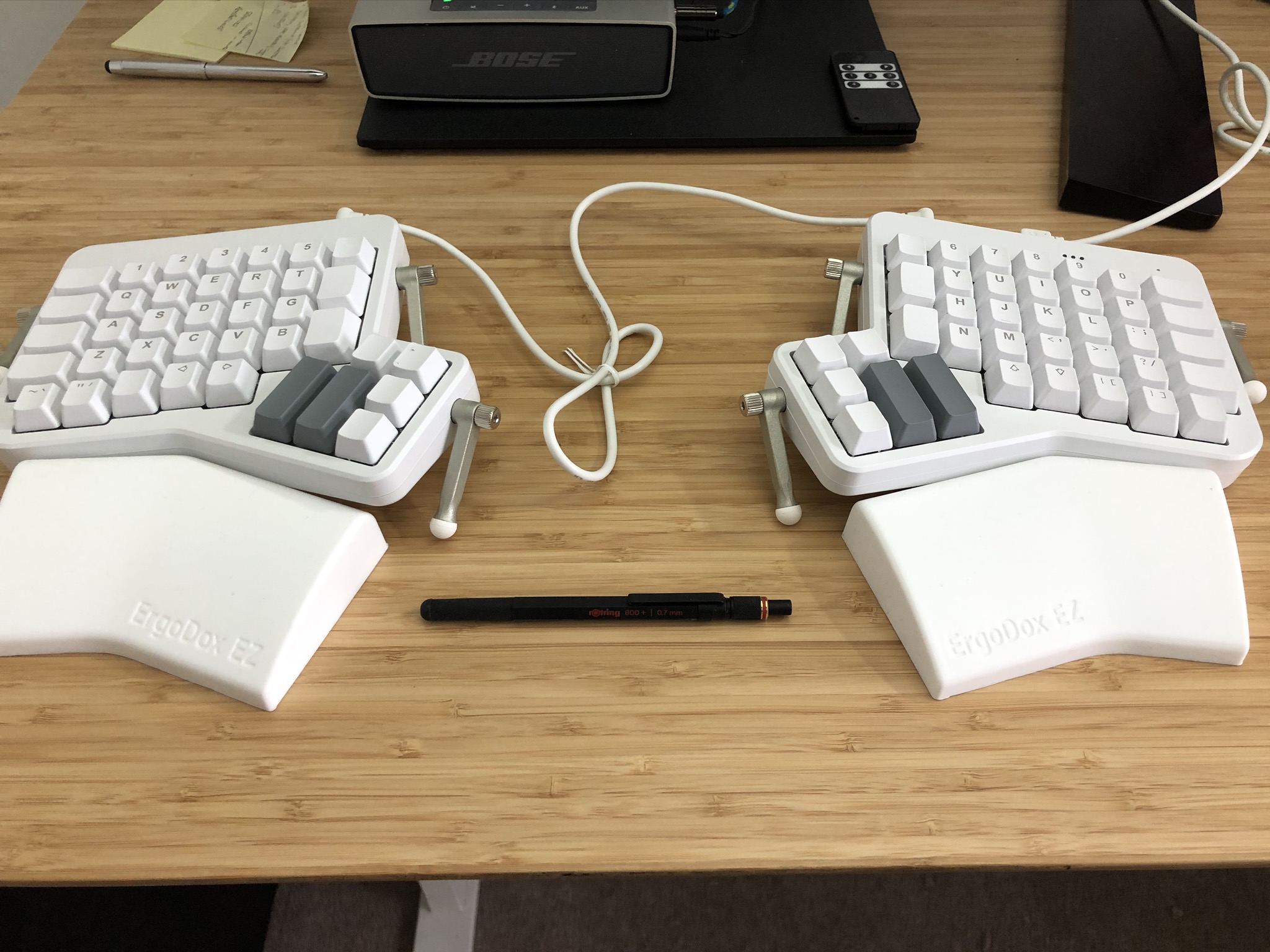 By the way don't you find it funny how some things stay the way they are for so long just because that's the way they have always been? Like our acceptance of the staggered key layout of keyboards; something that exists purely due to the mechanical need of typewriters back in the day. Need convincing? If you have a full size keyboard, look at the number pad on the right? The number keypad came after mechanical typewriters. Are those keys staggered?
Before that I looked at the ErgoChair 2 which I received towards the tail end of #WFH (I went back into the office from the end of July). That's a great affordable office chair with a lot of adjustment baked in.
I'm just sad I'm no longer working from home as it's a fair bit comfier than the chair I have to use in the office.
And that brings me neatly around to working from home/remote.
Reflections on working from home
I've been back to traveling to work each day for over a month at this point and it's given me time to solidify the following opinion. For the most part, for my work, working from home, is a preferable and more productive way of working.
Some thoughts:
Skype/Zoom/Teams calls allow uninterrupted discourse between relevant parties. Compare that with the almost inevitable interruptions trying to work through issues huddled around someone's cramped desk space in an open plan office.
There is additional friction needed to ask someone a question if you need to email or call them, and I think this makes people more focused. Being disciplined about interactions forces all parties to be more organised.
Documenting issues and their solutions onto shared platforms (GitLab et al) solves problems beyond the current day. Whilst WFH, it was necessary to document discussions and decisions with colleagues so others could keep track. This proves useful in the long run, when trying to recall this or that interaction and decision that ordinarily got sorted with a conversation.
Ambient noise is all but eliminated when working from home. Or at least is within the control of the individual. In an open-plan office environment it can be impossible to concentrate without headphones on. I often keep headphones on, even without music playing simply to drown out the din. This makes it far easier to get and stay 'in the zone'.
Room temperature is easy to control for personal preference. In large offices you are often at the whim of the environment. If you are unlucky enough to find yourself in a stifling office, that doesn't aid productivity.
It's possible to use the best equipment for the job. For my home office I can invest in whatever makes me healthier/more productive. For example, at home I have a sit/stand desk, something you rarely get an option to enjoy in a standard office space. You can also invest in something obscene but wonderful like a 49″ curved monitor if you like. Fantastic for productivity but the request is going to garner little more than a tut and shake of the head from most IT departments.
Lighting can be managed to eliminate screen glare. Often impossible to manage in large open-plan offices
In defense of offices, there is value in face to face human interaction but for what I do, I think it's over valued. I hope more businesses/countries take a long hard look at what makes employees more productive. Wales seem to be taking lead!
We have a tendency to hang on to the vestiges of outdated solutions, and I wish we re-analysed things more frequently. Working from home for three months was a bit like looking at a ortho-linear keyboard with curiosity and then realising its what we do currently that is weird, we just don't want to progress sometimes.
Reading/listening
Perhaps my favourite bit of these newsletters is relating things I have enjoyed reading/listening. Here goes:
Total Recall book
Yep, it's Arnie's autobiography. I had no real opinion on Arnold Schwarzenegger. When musician, Blank Tempo recommended it to me I didn't expect much from it.
It's a belter. Sure, reading about the making of films I grew up with like Terminator, Predator and Total Recall was fun but the later stuff about politics, a topic I'm largely indifferent to, was fascinating.
Can't recommend it enough. I listened to it on Audible and sadly the Governator only reads the first and last chapter but it's a real treat.
ShopTalk Show
I've had a break from podcasts for the WFH spell so I've been binge listening to ShopTalk Show. It never disappoints. If I could only keep one tech podcast, this would be it.
Oh, and I love the website design.
GPT-3
This piece about GPT-3 at the Verge was excellent.
I'd kept on hearing about and seeing examples of GPT-3, the machine learning thingy-ma-jigg, but didn't really understand what it was. This piece demystifies it, and also talks about the future of AI.
Summary
That's it for this month. Next month I hope to try out a large 43-49″ monitor to see how it compares to the 4K HP Z27 I'm using currently. I'm curious to see whether a massive workable area beats the fidelity of a high-res display.
Alongside that, I'm hoping to get to grips with a Tiling Window Manager (think TMUX but for your entire OS). First up will be 'Awesome'. If it goes well, maybe I'll even try my hand at a YouTube video like all the cool kids do.
Until next time.